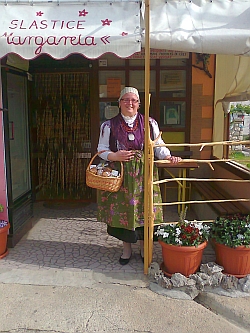 AUTHENTIC HOME-MADE BAKERY PRODUCTS OF CRES!
"Margareta" Pastries are produced traditionally by a family owned bakery in Cres, specialized in the time-honored domestic confectionery of the island. Our business was founded in 1996 with the objective to revive and preserve traditional pastry handicraft with the classical local recipes of Cres.
All ingredients are natural without preservatives; all products are hand-made and of superior quality, based on walnuts, almonds, figs, sage-honey, lemons, oranges …  Apart from traditional cookies (buculina, kacotina, rozeta, čifleta, bruštulane mendule), "fritula", kroštula, sweet bread "škanjata", "pogača", our pastry shop also offers you cakes of various different shapes, sizes and tastes, several crème-pastries, strudel, biscuits and salt rolls …
"Margareta" Pastries of Cres is the winner of several prizes and since 2010 our traditional cookies hold the predicate
CROATIAN ISLAND PRODUCT
, awarded by the Ministry of the Republic Croatia for Sea, Transport and Infrastructure (MMPI). Our shop is located near the end of the entrance road to Cres, turning right on the "Promenade"-Street in the direction of the Elementary School and Kindergarten. We would be happy to see you and we wish you a sweet stay in Cres ! 
---
The cake of our captains - the islands of Cres and Lošinj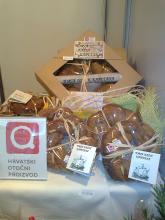 Our experience, tradition and love towards the island enabled us to make "THE CAKE OF OUR CAPTAINS".
The nature enriched poor soil and island karst with almonds, figs, lemons, oranges and olives, plants that, with the help of hard working people, make healing honey and premium quality olive oil which is a natural preservative and enables the longer storage of desserts.  
In the honour of our captains we give You a more endurable dessert which you can serve with wine and dip in wine, just like the captains used to do it.

Podijeli