THE CAKE OF OUR CAPTAINS
THE ISLANDS OF CRES AND LOŠINJ
Our islands are located on the north part of the Adriatic sea, in the Kvarner bay. Because of that position, our islands were a part of important historical trade routes.
The first written documents, dating from 400 years BC already emphasized the importance of the islands in maritime and land routes of merchandise motion of that time ("The Amber Route").
Once modest fishing localities have become with time important centres and safe harbours.
Islanders were always attached to the sea which was their source of life and survival.
They gained sailor skills and many started to push out to sea and become excellent captains.
They carried the fruits of their islands to distant places. Those fruits were kept in wooden cases called "baguli" to remind them of their home and family.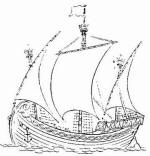 Our experience, tradition and love towards the island enabled us to make "THE CAKE OF OUR CAPTAINS".
The nature enriched poor soil and island karst with almonds, figs, lemons, oranges and olives, plants that, with the help of hard working people, make healing honey and premium quality olive oil which is a natural preservative and enables the longer storage of desserts.  
In the honour of our captains we give You a more endurable dessert which you can serve with wine and dip in wine, just like the captains used to do it.
Sail with "The cake of our captains", take it to your loved ones, share the taste and aroma of our islands and let us wish You :
Calm seas and bon appetite!
~~~~~~~~~~~~~~~~~~~~~~~~~~~~~~~~~~
Slastice "Margareta" CRES
M.D.R.

Podijeli